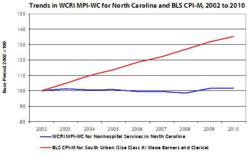 Cambridge, MA (PRWEB) August 29, 2011
Over recent years the costs of medical treatment per claim for workers? compensation injuries have been growing rapidly due to growing medical prices in some jurisdictions. To help policy and business decision makers better understand this growth, the Workers Compensation Research Institute (WCRI) has created the Medical Price Index for Workers? Compensation, Third Edition (MPI-WC).
?Unlike the consumer price index for medical care (CPI-M), which measures general prices paid for medical goods and services, the MPI-WC focuses on the prices paid for medical care that injured workers receive,? said Ramona Tanabe, WCRI Counsel and Deputy Director. ?If you are a policy maker or other stakeholder and want to understand the growth of medical prices in workers compensation, you need this unique tool.?
Without the information the MPI-WC provides, states cannot accurately understand how prices for medical care for injured workers in their state compare with other states and know if prices in their state are rising rapidly or relatively slowly. States will also not know if the reason for rapid growth in their state is part of a national phenomenon or whether the causes are unique to their state and hence, subject to local management or reform.
Additionally, medical prices for workers? compensation are regulated in about 80 percent of states. In those states the CPI-M does not accurately reflect the changes in actual prices paid in the regulated workers? compensation market. For example, in North Carolina, the CPI-M shows that medical prices rose 35 percent from 2002 to 2010, while the MPI-WC shows that it barely changed. The MPI-WC is more accurate since the state-established maximum reimbursement rates did not change during that time period.
The MPI-WC tracks medical prices paid in 25 large states from calendar year 2002 through June 2010 for non-hospital, non-facility services billed by physicians, physical therapists, and chiropractors. The medical services fall into eight major groups: evaluation and management, physical medicine, surgery, major radiology, minor radiology, neurological testing, pain management injections, and emergency care.
The 25 states included in the MPI-WC, which represent more than three quarters of the workers' compensation benefits paid in the United States, are: Arizona, Arkansas, California, Connecticut, Florida, Georgia, Illinois, Indiana, Iowa, Louisiana, Maryland, Massachusetts, Michigan, Minnesota, Missouri, New Jersey, New York, North Carolina, Oklahoma, Pennsylvania, South Carolina, Tennessee, Texas, Virginia, and Wisconsin.
Click here to download a free copy of this report.
ABOUT WCRI:
The Workers Compensation Research Institute (WCRI) is an independent, not-for-profit research organization based in Cambridge, MA. Since 1983, WCRI has been a catalyst for significant improvements in workers' compensation systems around the world with its objective, credible, and high-quality research. WCRI's members include employers; insurers; governmental entities; managed care companies; health care providers; insurance regulators; state labor organizations; and state administrative agencies in the U.S., Canada, Australia and New Zealand.
###
Health News and Health Articles
Publisher - Axis Media
WCRI Builds Better Tool for Understanding Growth of Medical Prices in Workers? Compensation Compared to Consumer Price Index for Medical Care
by
Publisher - Axis Media
( Author at
AxisMediaIndia.com
)
Posted on
September 4th, 2011
at 12:13 am.
Find more on:
Health