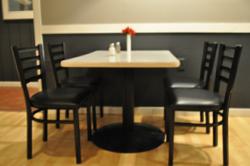 Atlanta, GA (PRWEB) August 30, 2011
American Hospitality Furniture?s restaurant furniture will be featured on an episode of Food Network?s Restaurant Impossible show. The episode airs nationally on October 26th and will feature Chef Robert Irvine and his team?s challenge of turning around failing restaurants all across America. The premise for each show is that Chef Robert and his team travels to a struggling restaurant and rescues it within two days and a budget of only $ 10,000. On the first day, Chef Robert observes how the restaurant and its staff operate, and then he helps the staff to correct their mistakes while updating the menu. On the second day, the design team updates the look and atmosphere of the restaurant while Chef Robert takes his marketing to the streets and tells the community about the project. The final scenes show the grand opening of the restaurant and a closing statement by Chef Robert himself.
The head designer for the design team of the October 26th episode, Krista Watterworth, contacted American Hospitality Furniture about purchasing furniture for the show after viewing the company?s website, AmericanHospitalityFurniture.com. The company was able to quickly turn around the required quantity of furniture in time for the grand opening. American Hospitality?s PR team was present during the live filming of the opening, along with local business persons and politicians. The meal from the restaurant?s updated menu was delicious and the redesigned restaurant looked absolutely fantastic.
Krista and her design team deserved high marks for the amazing renovations they provided the restaurant. The before and after pictures of the restaurant seating, the restaurant tables, the bar, the walls, and the flooring can be found on the company?s website. American Hospitality Furniture continues to provide quality, affordability, and great customer service, and, with Restaurant Impossible, has cooked up a recipe for success in the restaurant furniture industry.
###
Health News and Health Articles
Publisher - Axis Media
American Hospitality Furniture on Food Network
by
Publisher - Axis Media
( Author at
AxisMediaIndia.com
)
Posted on
September 18th, 2011
at 12:10 am.
Last updated on
May 8th, 2013
at 8:30 am.
Find more on:
Health